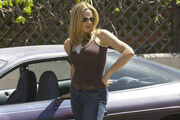 Mary McCormack, originally from Plainfield, New Jersey, is an American actress, most currently starring as Mary Shannon on the USA Network's In Plain Sight. Born on February 8, 1969 in New Jersey to clinical therapist Norah and car dealership and ice cream parlor owner William McCormack.[1]Her parents divorced in 1990 and Mary has sister Bridget (a professor of law at the University of Michigan Law School) and a brother Willam, also an actor. Mary started her acting career at the age of 12 years old, performing in the Gina Carlo Menotti's Christmas opera house. She attended Wardlaw-Hartridge School in Edison, New Jersey and graduated, going on to attend Trinity College in Hartford, Connecticut where she studied English and painting. McCormack's first big role was when she joined the cast of the TV series "Murder One" from 1995-1997. Following that, McCormack went on to act in series such as HBO's "K Street," NBC's award-winning program, "The West Wing" as Deputy National Security Adviser Kate Harper and as a recurring character on the critically acclaimed emergency room drama, "ER."
Mary's movie credits include an appearance starring in Stephen King's horror film "1408" opposite Samuel L. Jackson and John Cusack. However, it was her performance opposite Howard Stern in "Private Parts" that won her acclaim and recognition. A Broadway performance followed this movie, in which McCormack acted as character 'Sally Bowles' in the production on "Cabaret" for the Roundabout Theatre Company.
McCormack's additional credits include the following: the "Dickie Roberts: Former Child Star" opposite David Spade, "K-Pax" opposite Jeff Bridges and Kevin Spacey, the Clint Eastwood film "True Crime," Mimi Leder's "Deep Impact," "The Alarmist" opposite Stanley Tucci and "Miracle on 34th Street." Her stage credits include the acclaimed London stage production of Neil LaBute's play "Bash" and the David Warren-directed productions of "My Marriage to Ernest Borgnine" and "A Fair Country."
McCormack was nominated for the 2008 Tony Award for Best Performance by a Featured Actress in a Play for the role of Gretchen in the Broadway revival of Boeing Boeing.
It was also in 2008 that McCormack joined In Plain Sight, snagging the lead role. The series debuted on June 1, 2008 with huge success and high ratings. Season Two began airing in April 2009 and was renewed for a Season 3 in August 2009 with new episodes premiering March 2010.
Mary currently lives in Los Angeles, where she acts and lives with her family.